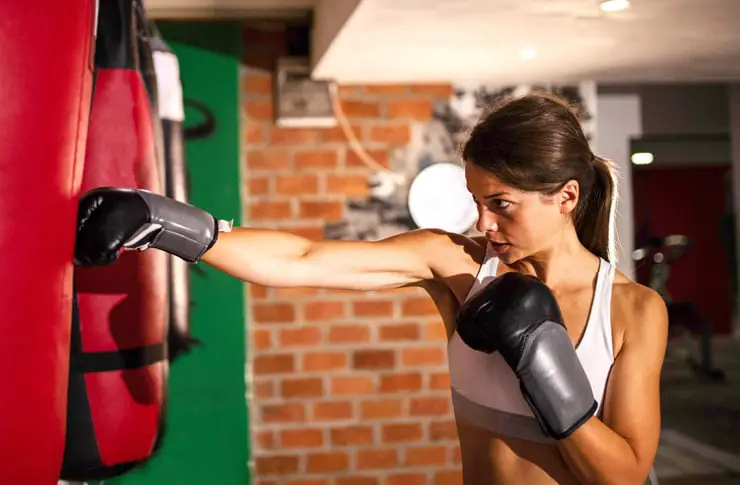 Boxing is a great workout and an intense sport. Training in boxing will get you into great shape and help you maintain body weight and build muscle mass. It is also a great way to learn self-defense and self-control. It is vital to learn focus and discipline to overcome your opponent.
Although boxing has many advantages, it isn't the safest form of martial arts to learn. This style of fighting is aggressive and can be very dangerous. Think about all the professional boxing matches you may have watched through the years and how many broken ribs, jaws, and limbs have happened. You see the extent of swollen eyes, bloody noses, and fat lips as well.
All of this happens to trained professionals who have been boxing for many years. Imagine the damage you can endure if you are not adequately protected when you start to learn the ways of martial arts fighting?
Although proper gear and training with the best equipment won't protect you from taking a hard right hook, it will help you prepare for a fight, and hopefully, learn to dodge incoming punches and strike before another blow comes your way. Below is a list of the essential boxing training equipment you need to start practicing martial arts.
Boxing Gear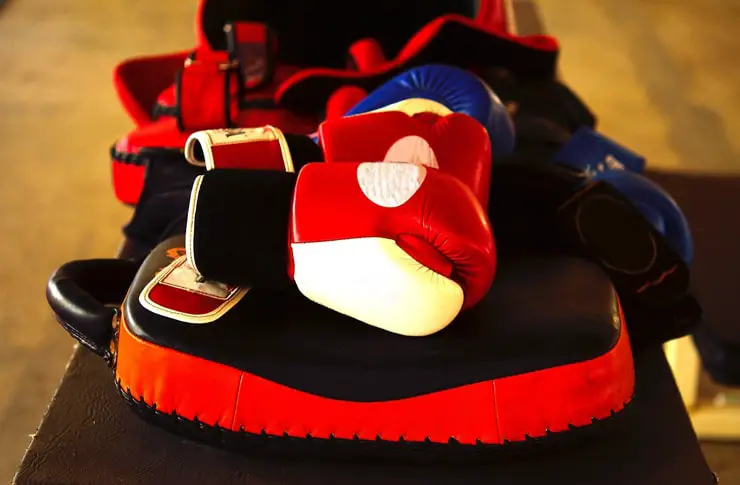 One of the essential items to buy when you are training to box is the training gear. Having the proper attire is important to learn the right techniques and for keeping yourself protected. Boxing is a full-contact sport that has been known to cause severe injuries to your head, neck, and ribs. 
Protecting yourself from a sparring partner or even just protecting your hands from a bag is critical. Here is a list of boxing body gear you should have when practicing martial arts.
Training gloves– It's a good idea to own a well-made set of training gloves for sparring and grappling at the gym. These will protect your hands and knuckles from injury while you punch. When purchasing training gloves, look for a good fit and design. You want them made from a flexible yet durable material, so they don't tear after a few rounds.
Boxing gloves– Boxing gloves differ from training gloves because they are fully closed, covering the entire hand, and are a little thinner in the top padding, providing more of an impact to your opponent. A boxing glove offers better protection to your hand while hitting a bag or an opponent. When purchasing boxing gloves, you want to get a well-fitted glove that is durable and allows for tightening around the wrists.
Training shoes– When choosing a good pair of training shoes, look for a reputable brand with a good history with fighting shoes. Boxing shoes should be light and flexible but still hold tight against your feet. It's also important to find a pair of breathable shoes, so you don't have to deal with the problems associated with sweaty feet (ie. athlete's foot).
Head Gear– Making sure you have proper headgear when boxing is imperative. This will help you train without risking any serious head injury, including a broken cheekbone or jaw. Find headgear that fits your head and doesn't move once it's in place. It should have proper padding; you want headgear with a shock absorber.
Mouthguard-  A mouth guard is important protective gear for just about any impact sport you participate in, which is especially true in martial arts training because you will be getting hit in the face and head a lot. When you pick out a mouthguard, look for ones designed for martial arts or boxing specifically. 
Hand Wraps– Hand wraps are necessary for boxing because they help protect your joints, wrists, knuckles, and hands from the shock of a punch. Wraps are reasonably inexpensive but imperative to own. Knowing how to wrap your hands is just as important.
Shin Guards– Make sure you purchase proper fitting shin guards. They should have shock-absorbent padding and offer full protection without limiting your movements. You will also want shin guards created from sweat-wicking material to keep your shins legs dry while wearing them.
Chest protector– Your chest protector should come with adjustable and durable straps that will stay in place while you are using it but are also covered by material so they do not dig into your skin. It should have very thick, strong, durable padding to keep your chest and rib cage fully protected. 
Skills Training Equipment
Once you are geared up, safe, and ready to fight, you need something to work with to train yourself or with a partner. Owning your own boxing gear can be extremely helpful, especially these days when a boxing gym environment is not always available. Having boxing equipment in your home will keep you conditioned and gives you the ability to work out at any time.
 Here are some items you will want in order to practice daily. Finding excellent quality equipment made from reputable companies who know the sport, such as Everlast, is highly recommended. Below we have given you a few items that we believe are good quality products that will help aid in your training.
Body Opponent bag– The body opponent bag is a self-defense training essential. It helps you train with punching, striking, and kicking the upper body of an opponent. Most of these bags are adjustable in height and are around 270lbs when filled with sand or water.
Punching and kicking bag– A punch bag (punching and kicking bag) is a hanging bag filled with a heavy material making it strong and durable to hit and kick repeatedly. These bags are generally between 4 and 5 feet tall and should be made with a resilient and fray-free material for long-lasting use.
Reflex bag– The reflex or speed bag is a great tool to use for quick punches and strikes. These bags are also used to help train with slips and dodging punches as the bag springs back at you after each hit. Reflex bags are usually adjustable between 5-7 feet high.
Kick Pad- A kick pad is what it sounds like. A partner holds the pad in a specific position, and you have to kick it accurately. You want your kick pad to be made out of good strong material-the ones with the gel foam padding are ideal. It is crucial to get a pad with a well-fastened grip on the back that has a stronghold and won't be uncomfortable for the person holding it.
Focus mitt– A focus mitt is another great tool used to train in boxing for partners. The training mitt is a padded glove that one person holds up, and the opposing person will punch or kick it to work on their accuracy.
Floor mats– Floor mats are used to keep fighters safe during sparring or training. It is important you find a mat big enough to move around on and durable enough to take a lot of beating. Also, look for one that is relatively thick.
Strength Training and Cardio Equipment 
The list below contains essential workout tools that anyone can use even if they are not training to fight. These are some basic products that are used for overall body health and fitness training. Using these tools while training to box can be helpful when you are not ready to gear up.
Doing simple training like weight lifting or jumping rope can help improve your stamina, build muscles, and improve your endurance. Sometimes it's the basic items that can really impact any workout routine. 
Here is a great list of products anyone should have in their home gym if they want to maintain a healthy lifestyle or for those who are diligent in training in martial arts.
Jump rope– Purchasing a jump rope for martial arts training is much different from a jump rope for fun. A jump rope for boxing should be heavy and thin with the wires being made or covered in PVC. The handles should be light and easy to grip. Skipping rope is known to help boxers improve balance, speed, and agility.
Battle rope– Battle ropes (or heavy ropes) are used in training for strength and conditioning. They are large, heavy ropes used for full-body workouts, strengthening, toning, and endurance. You want heavy-duty cables and strong, sturdy handles.
Kettle Bell– a kettlebell was designed to increase strength and muscle endurance. They come in many different sizes and weights. You can buy these in cast iron or other heavy-duty materials. 
Medicine Ball– The medicine ball also comes in many different sizes and weight and are used for strength training. They are great for traveling or training on the go.
Dumbbells– Having multiple pairs of well-crafted dumbbells in different weight capacities will help you build arm strength and muscle toning.
Things to Think about When Purchasing Equipment.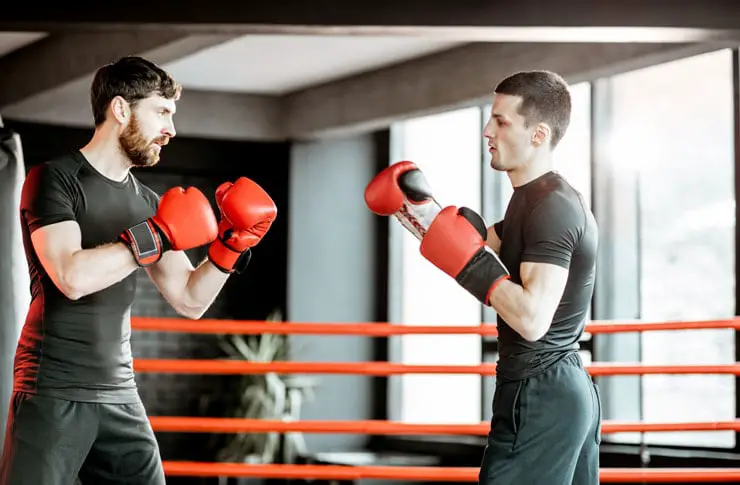 When you are preparing to purchase pieces of training equipment, do not waste your money on something you know you will never use. We created the list above to give you ideas of what is helpful in training and how to look for the right equipment. You do not necessarily need to own it all.
Find equipment based on your personal preference and what makes you feel comfortable using it regularly. If you do not enjoy the workout, you are less likely to stick with it. If you do not have someone at home to train with, don't purchase the focus mitts or kick pads. Suppose you are on a tight budget; in this situation, maybe you should forgo the body opponent bag or large floor mat. Even though they are extremely helpful, they are not the only ways you can successfully train in martial arts.
Ways to Train Without Equipment
Although it is ideal to have the essential boxing training equipment to practice at home properly, it isn't the only way you can train. Here a few tips for boxing without the more expensive tools or even a partner.
Shadow Boxing– Shadowboxing is sparring with an "imaginary" opponent. Imagine someone is on the other side of you, throwing punches and kicks. Then react the way you would if it were a real-life attack.
Mirror Training– Stand in front of a full-body mirror while you are punching, jabbing, ducking, or blocking. This way, you can see your form and find where you need to improve. This can also be a great way to implement shadow boxing and literally fight against yourself in the mirror.
Be Creative– A punching bag can be made out of many household items as long as it is large enough to hit and cushioned enough that it won't break your hand. Many people have opted to lean a mattress against a wall to take the place of a punching bag as a last resort.Another improvisation is tape. Using tape on the floor can help you learn balance, agility, and footwork.
Youtube– When all else fails, watch some youtube videos that teach different skills and techniques. If you decide to do this, make sure the videos you watch have many followers and know what they are doing. You do not want to risk learning something incorrectly. Doing this will set you back rather than help you train.
To Sum Things Up
The most important thing to do when learning any type of martial arts is training. Training, training, and more training is essential to master technique and skills. You always want to maintain good form and physical fitness if you're going to make it through a match. The best way to master these skills is with the proper equipment, tools, and gear.  Using any of the equipment listed above is a great way to work out from home and still get the lessons you need in order to be successful at it, even if it is just maintaining your current techniques or building on your current strengths.